Building buy-in for Supply Base Management
One of the biggest hurdles for implementing a deep, automated Supply Base Management (SBM) program is getting the buy-in.
Author
Date

Wednesday, November 13, 2019
One of the biggest hurdles for implementing a deep, automated Supply Base Management (SBM) program is getting the buy-in.
Getting buy-in is necessary from your stakeholders for participation and, importantly, budget.
Having helped many organizations successfully navigate this internal "journey" in their own organization, Scanmarket has learned that the most important steps gaining buy-in for SBM are:
Have a clear story
Focus on the benefits to your stakeholders
Repeat it endlessly
1.

Have a clear story

Make sure you can clearly articulate what SBM is and why it matters. Automated SBM is likely a new topic for many of the stakeholders you need to engage to get the broad-based buy-in you need.

Supply Base Management (SBM) provides a single, comprehensive solution for your supplier relationships. Whether it's risk management, savings, 360-degree scoring/monitoring, or efficiency, SBM makes managing your supplier relationships easier allowing you to get:
Improved collaboration internally and externally
Lower annual management costs per supplier
Better supply incident response
Faster supplier on-boarding and time-to-market
More efficient sourcing execution


2.

Focus on the benefits to your stakeholders

When communicating your story to the stakeholders, use examples that will resonate for them directly. Where you will focus on ROI with Finance, tailor your story to needs of other stakeholders. Pick the area of focus that matters most to them.

Automation: There's simply no way to manage thousands of suppliers in Excel and shared-drives. You need a tool in place to automate as much of the process as possible. Failure to do so means your team will be spending their time looking for information and updating records, rather than looking for risks and opportunities.

Efficiencies: Let your suppliers maintain their own information from self-registration to company details to contact information.

Compliance: Ensure up-to-date supplier certificates, agreements with your policies, regulatory filings, etc. You control what's required and the system provides the notifications and alerts.

360 Degree overview and Reporting: Easy and automated reporting including supplier scoring and traffic light overview dashboard provides a full and complete view to your supply base and highlights areas of potential issues for further investigation. This lets your team focus on what's important rather than spending time generating reports.

Easier collaboration among team members: With all your supplier data gathered in one repository under a standardized format, there's less chance that data will be lost in email inboxes or hard drives.

Connection (and API) between tools: Connection to eSourcing tools leads to a faster eRFx process as data automatically transfers and suppliers are easily shortlisted based on their pre-existing profiles.
---
Scanmarket's SBM can help you reduce supplier management costs by up to 85% - mainly by automating a lot of the admin tasks of following up on suppliers and updating information. By having up-to-date data instantly available it becomes easier to understand the complete picture of supplier performance, risks, activities, etc. thereby eliminating wasted time in decision-making processes – essentially allowing the optimal decisions to be made faster.
The tool helps you manage everything from supplier contact data, certificates, notes, communications to customizable questionnaires, KPIs and Risk scorecards. Questionnaires can be linked with sourcing events to save you and your suppliers' time, maintaining up to date records and avoiding duplication of work.
The new dashboard allows for extensive searching, filtering and reporting in order to find and compare the suppliers you are managing. By combining supplier self-evaluations with input from stakeholders, you achieve a 360° view on each supplier and their performance.
Learn more about Scanmarket's SBM in the video here:
---
Building Buy-in An Example:
For example, if you are talking to Supply Chain / Fulfillment, focus on how SBM could help them in the event of a supply risk emergency to:
Know which suppliers might be affected
Communicate efficiently with the affected supplier(s)
Quickly find alternate sources of supply if needed
Keep and maintain everything current and in one place
Know – One of the most difficult steps is to quickly determine which inputs and/or suppliers might be affected, for example during times of natural disasters. In the "old days", this meant hunting through emails, spreadsheets and databases that were, by definition, outdated the day after they were created. By using a supply management system, you can quickly determine which suppliers are at risk (e.g. suppliers located on the Gulf Coast during tropical storm Gordon) and take appropriate action.
Communicate – Once you've identified a segment of suppliers, the supply management system allows you to communicate with that segment in an organized manner and maintain all the communications in one place. You will also be able to solicit structured information such a templated RFIs or questionnaires.
Find – If you've had a major input or supplier impacted by a "force majeure" event, you're going to need another source quickly. And keep in mind that your competitors will also likely be looking for the same thing. In other words, moving quickly will be key to success. Starting up a supplier discovery and qualification effort after the fact is not going to work. Instead, you'll want to have access to a pre-qualified set of suppliers who can quickly fill the void.
Maintain – The key advantage of supply management platforms is, that maintenance of the data becomes the responsibility of the supplier, not your team. In addition to requiring less effort by your team, having the supplier "own" this data means there's a much better chance of it being up to date and accurate. Even better, there are now multiple options to create system-to-system connections through web-service APIs to further reduce the effort required.
---
3.

Repeat it endlessly

Take your story everywhere in your organization from the C-suite to the Fulfillment department. Make no mistake, getting buy-in for SBM is a sales project and selling takes time and effort.

While there's a chance you might never need it in an emergency, SBM and proper risk management practices should be considered in the same vein as insurance; you hope to never use it but wouldn't dream of living without it.

No matter what, think about risk now, before it's upon you.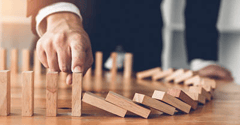 Do you have a structured supply risk management approach? If not, you need one and here's how to start.


For more information on these approaches or to learn more about how Scanmarket can help you achieve your business objectives, please contact us at www.scanmarket.com or contact your Scanmarket account manager.
Scanmarket
Easy. Proven. Results.